Crofton Park Computer Repairs
Crofton Park computer repair, Crofton Park laptop repair, Crofton Park Mac repair
When is Crofton Park not Crofton Park? When it's Brockley of course. Before the area was built up in the late 19th century, the principal buildings were Brockley Farm, Brockley Hall and the famous Brockley Jack public house. Then came rapid expansion in the1890s with the opening of a new railway line, locally known as the Catford Loop, and a railway station which opened in 1892.
It was the naming of this station as Crofton Park which gave the area its modern but totally invented name. Although this was the historic heart of Brockley, they couldn't name it again as 'Brockley' as it had already been used for two earlier railway stations further north - Brockley and Brockley Lane. So, a creative soul at the railway company came up with the name Crofton Park.
As a resident of Crofton Park, perhaps you travel into the capital to work or shop each day either by bus or train. Maybe you don't have to, as you can work at home and there are some great Victorian houses, modern shops and social places to meet in Crofton Park.
Creative IT computer repair and upgrade services for home and business in Crofton Park
If you have your home or business is in Crofton Park within Lewisham borough and you have problems with your desktop, laptop or Mac, then Creative IT can be relied on for efficient home servicing and computer damage limitation when it comes to Crofton Park computer repair, Crofton Park laptop repair, Crofton Park Mac repair.
Our success in London feeds down to clients in the south east of Greater London and Kent. We get a lot of pleased customers down Crofton Park way. A Creative IT engineer can be on your doorstep in SE4 and SE23 in no time at all to carry out professional PC and laptop repairs, servicing, upgrades and all networking services, just as we do at the very heart of the capital.
Our hi-tech repair centre south of the Thames caters for speedy and cost-effective solutions in computer, laptop and Mac repairs for clients at work or home in Crofton Park and Greater London. No matter what the problem, on or off site, Creative IT engineers can repair all makes and models of laptops and indeed Mac versions, MacBook Air or iMac, MacBook, and MacBook Pro. With our great value prices and free quotes, there's no bettering Creative IT for Crofton Park computer repair, Crofton Park laptop repair, and Crofton Park Mac repair services.
Has your laptop or Mac in Crofton Park suffered a cracked screen or maybe water or another liquid damage? Perhaps it's a software problem you have with your Mac? It could be a complete mystery to you why your device is not working. You may not know what the problem is but we can sure find out – and fast! That's why Creative IT has the great reputation it has in Greater London and Kent. For a decade and a half Creative IT has been fixing and providing Crofton Park computer repair, Crofton Park laptop repair, and Crofton Park Mac repair services. We handle any computer laptop and Mac repair in a fast rendering of quality service to have you back in operation, often in just hours.
There are some great little businesses in Crofton Park, not to mention some fine eating places. Creative IT engineers in Crofton Park have worked with quite of few of them, especially in terms of data recovery, computer upgrades and of course in the food business. Things get busy in such places of hospitality and damage and spillages happen. That's when Crofton Park computer repair, Crofton Park laptop repair, Crofton Park Mac repair from Creative IT comes into its own. A fast, friendly and reliable computer repair service which may be based in the city, but charges suburban prices and are just a call away.
Other faults we take care of in Crofton Park include rectifying operating system incompatibles, faulty broadband and wireless connections, sorting hardware and software errors, even a password removal service when devices get locked.
Troubleshooting in computer laptop and Mac repair - Crofton Park
Our fully qualified and experienced service technicians can solve any hardware or software related issues with any make or model of laptop and Mac computers. Problems can be sorted at your Crofton Park offices or we can collect and deliver back following competitively priced repair solutions in Crofton Park computer repair, Crofton Park laptop repair, Crofton Park Mac repair services by Creative IT staff London.
Have a nasty virus, malware and spyware problem? A Creative IT Crofton Park technician can fast eradicate troublesome gremlins from your system and provide a protective package to avoid future problems as part of our computer laptop and Mac repair services.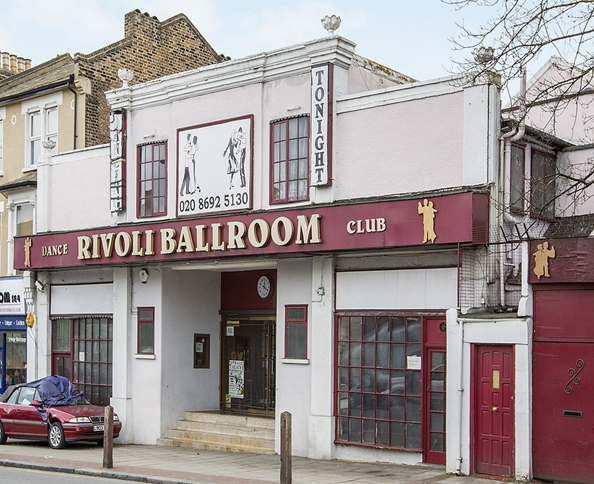 Creative IT is here to take SOS calls from all sizes of businesses in south east Greater London and Kent. Want a new network set up? Perhaps a laptop or Mac computer program installation or upgrade in Crofton Park? Look no further than us.
Creative IT provides computer support for both north Kent businesses and home users. Our technical teams in the field can come to your office or home location in our remote support service schedules.
You say where, we'll be there - even if it's at the well-known 1950s dance hall, the Rivoli Ballroom (see photo), or your favourite Crofton Park community pub like Jam Circus.
Mac repair services south east Greater London - Crofton Park
With all Mac repairs, you're not into silly prices. New parts are fitted in our central London repair centre at a cost that matches what we paid for them. All you pay with the parts cost price is our labour fee. That must be a first in the capital where inflated fees for computer repairs abound. A Creative IT engineer can pick up and drop off your Mac following repairs, so you're not landed with extra handling or carriage costs as you would with out of warranty Apple product.
Be content knowing Creative IT is cheaper, faster and on call for all services relating to Crofton Park computer repair, Crofton Park laptop repair, Crofton Park Mac repair.
You have peace of mind knowing that we do exactly the same Apple Mac repairs for Crofton Park customers of Creative IT as the larger alternatives in south east Greater London but we do them cheaper, faster and we're absolutely always ready to help.
All Mac repair services we provide are professional and very secure. More peace of mind because all of our technicians have to sign their own non-disclosure agreements when they may be handling your precious data from Crofton Park.
Computer laptop and Mac repair services and upgrades Crofton Park
Creative IT has made a name for itself in London over 15 years when it comes to all types of computer laptop and Mac repair and we've created a buzz in Crofton Park also these days also. With fast turnaround times and a first-class service, the Creative IT clean room just south of the Thames is equipped with the most up to date technology to produce efficient and quality Crofton Park computer repair, Crofton Park laptop repair and Crofton Park Mac repair solutions.
Important files lost from your precious Crofton Park laptop, MacBook or iMac?
Data recovery services are also a big part of what we do at Creative IT when you're talking about Crofton Park computer repair, Crofton Park laptop repair, and Crofton Park Mac repair. This could include damage to your hard drive, accidental formatting or deletion of your data, not to mention a hard drive that's near the end of its days.
We offer a free quote so get it now from one of our experienced Crofton Park computer technicians by calling 020 7237 6805 - or email us at support@computerrepairsinlondon.co.uk
---