Honor Oak Computer Repairs
Honor Oak computer repair, Honor Oak laptop repair, Honor Oak Mac repair
Honor Oak is reputed to be the site of Queen Boudica's last stand against the Romans in AD61, whom she and her warriors had been hammering at London and Colchester. But the Iceni tribe leader is not the only Queen to be associated with Honor Oak. In May 1602 Elizabeth I picnicked with Sir Richard Bulkeley of Beaumaris in the Lewisham area 'by an oak tree at the summit of a hill.'
The tree came to be known as the Oak of Honor. The tree there today at One Tree Hill however, surrounded by railings, is an oak planted in 1905 as successor to the famous original (pictured).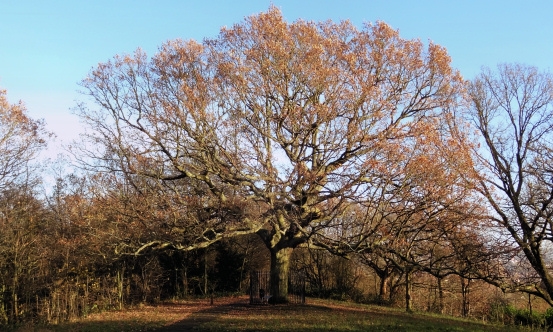 Highwayman Dick Turpin is also rumoured to have used the oak tree as a look-out post. In more modern times, like ten years ago, Honor Oak Park railway station became part of the London Overground extension, providing residents with direct links into Shoreditch and Highbury and Islington.
Like neighbouring Forest Hill, Honor Oak is becoming increasingly desirable as a place to live - as a peaceful, leafy suburb with good transport links into the city centre and slightly lower-than-average property prices.
At Creative IT we've found that Honor Oak residents are very friendly and always know what they want. The best of great community spirit cab be found in Honor Oak which has such history attached to it.
If you're in Honor Oak Lewisham and Southwark boroughs and are experiencing problems with your PC, laptop or Mac, then Creative IT London are on call for fast home or business servicing and computer damage repair when it comes to Honor Oak computer repair, Honor Oak laptop repair, Honor Oak Mac repair facilities.
Our achievements and good reputation in London today extends to clients in the south east of Greater London and Kent as well as the inner suburbs of Honor Oak. We're pleased to say that we have many satisfied customers in Honor Oak, particularly small business clients. That's because a Creative IT engineer can be on at your home, office or commercial premises before you can say 'Dick Turpin' to carry out professional Honor Oak PC and laptop repairs, servicing, upgrades and all networking services, just as we do in central London.
Fast economical solutions in computer, laptop and Mac repairs
Our modern repair centre and clean room near the Thames is not far from Honor Oak as the crow flies and caters for fast and truly economical solutions in computer, laptop and Mac repairs for clients at work or home in Honor Oak and Greater London. No matter what the problem, on or off site, Creative IT engineers can repair all makes and models of laptops and indeed Mac versions, MacBook Air or iMac, MacBook, and MacBook Pro. With our great value prices and free quotes, there's few competitors who can beat Creative IT for Honor Oak computer repair, Honor Oak laptop repair, and Honor Oak Mac repair services.
Has your laptop or Mac in Honor Oak suffered a cracked screen or maybe water or another liquid damage? Perhaps it's a software problem you have with your Mac? It could be a complete mystery to you why your device is not working. You may not know what the problem is but we can sure find out – and fast! That's why Creative IT has the great reputation it has in inner and Greater London. Since 2005 Creative IT has been fixing and providing Honor Oak computer repair, Honor Oak laptop repair, and Honor Oak Mac repair services. We handle any computer laptop and Mac repair and a fast rendering of quality service to have you back in operation, often in just a few hours.
As mentioned, there are some great little businesses in Honor Oak, not to mention some really nice places to socialise and dine out. Creative IT engineers in Honor Oak have worked with quite of few of them, especially in terms of data recovery, computer upgrades and of course in food, drinks and catering enterprises. Things get busy in such places and damage and spillages happen. That's when Honor Oak computer repair, Honor Oak laptop repair, Honor Oak Mac repair from Creative IT comes into its own. A fast, friendly and reliable computer repair service which may be based in the city, but charges suburban prices and are just a call away.
Other faults we take care of in Honor Oak include rectifying operating system incompatibles, faulty broadband and wireless connections, sorting hardware and software errors, even a password removal service when devices get locked.
Troubleshooting in computer laptop and Mac repair - Honor Oak
Our fully qualified and experienced service technicians can solve any hardware or software related issues with any make or model of laptop and Mac computers. Problems can be sorted at your Honor Oak offices or we can collect and deliver back following competitively priced repair solutions in Honor Oak computer repair, Honor Oak laptop repair, Honor Oak Mac repair services by Creative IT staff London.
Have a nasty virus, malware and spyware problem? Creative IT for Honor Oak can fast eradicate troublesome gremlins from your system and provide a protective package to avoid future problems as part of our computer laptop and Mac repair services.
Creative IT is here to take SOS calls from all sizes of businesses in south east London. Want a new network set up in Honor Oak? Perhaps a laptop or Mac computer program installation or upgrade? If you're a Honor Oak computer owner with a problem, look no further than Creative IT for help.
Creative IT provides computer support for both central and Greater London businesses and home users. Our technical teams in the field can come to your office or home location in our remote support service schedules. You say where, we'll be there - even if it's at your favourite café like Two Spoons in the High Street or the eponymously named Honor Oak pub.
Mac repair services south east London and Honor Oak
With all Mac repairs, you're not into silly prices. New parts are fitted in our central London repair centre at a cost that matches what we paid for them. All you pay with the parts cost price is our labour fee. That must be a first in the capital where inflated fees for computer repairs abound. A Creative IT engineer covering Honor Oak can pick up and drop off your Mac following repairs, so you're not landed with extra handling or carriage costs as you would with out of warranty Apple product.
Rest content knowing Creative IT is cheaper, faster and on call for all services relating to Honor Oak computer repair, Honor Oak laptop repair, Honor Oak Mac repair
You have peace of mind knowing that we do exactly the same Apple Mac repairs for Honor Oak customers of Creative IT as the larger alternatives in central London but we do them cheaper, faster and absolutely always ready to help.
All Mac repair services provided are professional and very secure. More peace of mind because all of our technicians have to sign their own non-disclosure agreements when they may be handling your precious data from Honor Oak.
Computer laptop and Mac repair services and upgrades Honor Oak
Creative IT has made a name for itself in London over 15 years when it comes to all types of computer laptop and Mac repair and we've created a buzz in Honor Oak also these days also. With fast turnaround times and a first-class service, the Creative IT clean room just south of the Thames is equipped with the most up to date technology to produce efficient and quality Honor Oak computer repair, Honor Oak laptop repair and Honor Oak Mac repair solutions.
Important files lost from your precious laptop, MacBook or iMac in Honor Oak?
Data recovery services are also a big part of what we do at Creative IT when you're talking about Honor Oak computer repair, Honor Oak laptop repair, and Honor Oak Mac repair. This could include damage to your hard drive, accidental formatting or deletion of your data, not to mention a hard drive that's just about kaput.
We offer a free quote so get it now from one of our experienced computer technicians by calling 020 7237 6805 - or email us at support@computerrepairsinlondon.co.uk
For Honor Oak business and home users can be assured that the Creative IT computer repair service is here for you six days a week, Monday through to Saturday, from 0900 until 1800.
---